Edit properties on multiple sheets belonging to AutoCAD Sheet Set Manager
Use
SSMPropEditor 7.2
Single License
to edit properties on multiple sheets belonging to
AutoCAD
's Sheet Set Manager (SSM) or
AutoCAD Architecture
's Project Navigator (PN) Sheet Set View with ease. If you want to change properties like a revision, date or name on two or more sheets at the same time
SSMPropEditor 7.2
is for you. Your productivity will increase and you will save time avoiding a lot of manual work.
Key Features and Benefits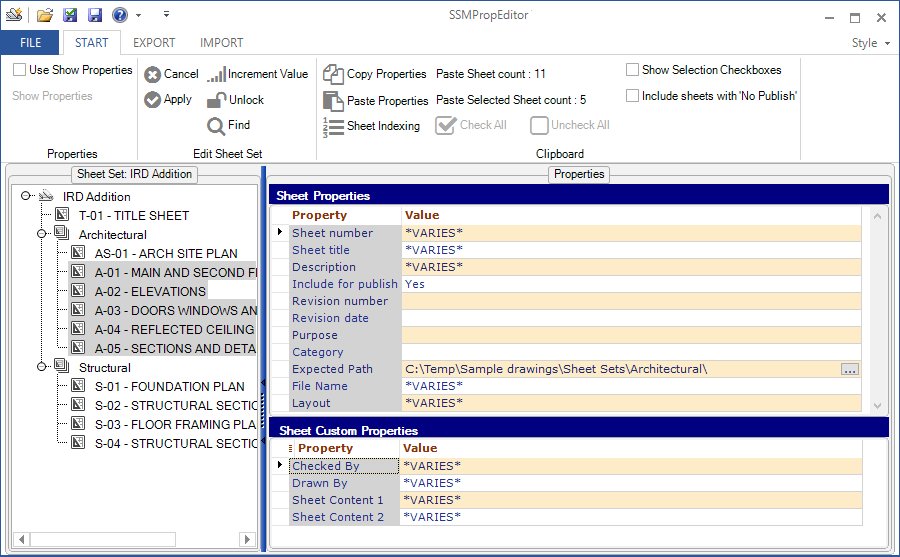 Sheet Set Properties, Sheet Set Custom Properties, Sheet Properties and Sheet Custom Properties can be edited and bulk updated.
Copy Sheet Properties from one sheet to one or multiple other sheets.
Copy Sheet Set Properties from one Sheet Set to another.
Increment revisions quickly on multiple sheets.
Paste the total sheet count to any property.
Export all Sheet Properties information to a file that can be opened with Excel.
Launch your DWG application from the tree view opening the sheet drawing. The application could for example be AutoCAD, AutoCAD LT, or TrueView.

SSMPropEditor 7.2

will save you time and money and make you less frustrated when you don't need to edit one sheet at a time.
Installation Requirements
In order to work properly, your copy of SSMPropEditor 7.2 — Single License requires .NET Framework 4.6.1 or later.
Support & Maintenance
SSMPropEditor 7.2
Single License
is a permanent license with support included and provided directly from the manufacturer.