VisualARQ for Students: For students, teachers, professors and schools. Proof of educational status is required
VisualARQ 2.6
is a fully-integrated Rhino 3D plugin that adds architectural tools to
Rhino 6.0
. Using the accessible and intuitive
Rhino
interface,
VisualARQ 2.6
provides tools for architects, planners, and interior designers that make the architectural design process and its documentation easy. It also adds parametric 3D architectural objects like walls, columns, doors, windows, and stairs that are suitable for both 3D modeling and 2D documentation. With
VisualARQ 2.6
's feature-based editor you can create and edit your own smart/custom architectural objects.
---
VisualARQ 2.6
integrates easily and intuitively into your design work flow. You can work in two or three dimensions and view the 3D model or the 2D representation at the same time.
Video Tutorials
What's New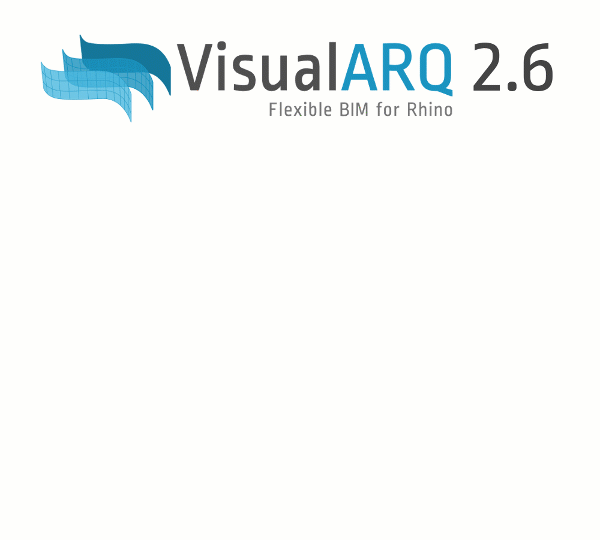 This new service release includes some new features and fixes most of the issues reported by users.
Curtain walls vertical extension

Wall layer thickness by object

Spaces in the VisualARQ Grasshopper pipeline component

Beam extension arrows

Render the model in section!

Wall height by layer
Features
Freeform modeling

Freeform modelling Powered by Rhino – Convert any freeform geometry into an informed object with VisualARQ.

Grasshopper integration

Define your workflow with the VisualARQ Grasshopper Components. Automate object and object style creation through visual programming.

BIM features

Add BIM to Rhino. Object styles to control information and parameters, IFC for interoperability between teams and applications.

Powerful Documentation

Dynamic and precise documentation always available from the VisualARQ 3d model.

Parametric architectural objects

Work with BIM objects such as walls, curtain walls, beams, columns, openings, stairs and other custom objects driven by parametric properties and styles.

Easy management and user interface

Organize your project by levels, sections, layers, sheets, templates, and more through user friendly dialogs.

Architectural Visualization

Assign materials, activate sections and generate great architectural views of your project.

Compatibility

File format's support, floating network licenses, external references and more.
Latest
VisualARQ 2.6

Webinar from NOVEDGE
Educational License Features
VisualARQ 2.6
Educational Student License
by
VisualARQ
.
---
For students, teachers, professors and schools. Proof of educational status is required.
Installation Requirements
In order to work properly, your copy of
VisualARQ 2.6 — Educational Student License
requires :
McNeel
Rhino 6.0 for Windows
Rhino 6 Student: The most powerful NURBS 64-bit modeling tool, with Grasshopper. The professional 3D design CAD now available for students at an affordable price
Add to Cart